In the spring of 1997, I attended a fund-raiser in New York City for the Academia Caerite, a small summer-arts program based in Ceri, Italy, an hour north of Rome. I was there to support my fresco teacher's efforts to further the practical study of ancient arts. Upon entering the event I noticed a delicate panel, approximately 5x7 inches, being raffled as a door prize.
It was unlike anything I had ever seen.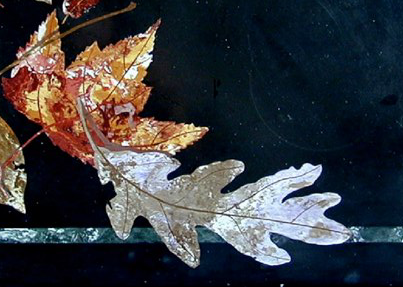 As a scenic artist-come-mural painter and faux finisher, I have a skeptical eye for faux marble. This panel had the black, glossy, smoothness of Belgian Black, the favored background for Italian "Pietra Dura" inlaid marble. Into the surface was carved a simple flower in delicate colors. The finish revealed no traces of brush strokes, deliberate veining, or any of the other telltale signs of a faux finish. The panel was cool to the touch, just like marble. Yet, had it been real stone, it would have had seams where the inlaid pieces joined. I asked the director what it was and she replied by inviting me to come to Italy and study the technique.
I missed winning the raffle that evening but was instead rewarded with a much rarer prize: an introduction into the beautiful and closely-guarded technique of Scagliola.