After finishing his BFA in Scenic and Costume design for theater at Mason Gross School of the Arts, Rutgers University, James continued work as an apprentice designer and painter. In 1989 he started his own decorative arts business, painting murals and faux finishes throughout the East Coast of the U.S.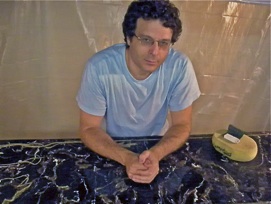 A desire to extend his arts education led James to fresco classes at Parsons School of Design, and to a workshop in Italy to study the 16th c. technique of Scagliola. The obscurity of this lost art inspired him to return to Venice in 2002 for further study, and to begin documenting and teaching the technique, along with mural and faux finishes. It also sparked an interest in other plaster techniques along with Scagliola. James has published articles on venetian plaster, and fresco.
In 2006, his wife, a former professional modern dancer, and James realized a long held desire to open an arts institute. We now offer workshops, classes and events in fine and performing arts to all ages at Totts Gap Arts Institute, a registered 501c3.